Women in Construction Week: Tammy Norman
Tammy started working with Sellen nearly 23 years ago when she joined her dad on site as a laborer the summer before heading to college. As she worked toward her teaching degree, she returned to Sellen working as a laborer each summer. After completing her teaching program and spending six years as a teacher, Tammy returned to the construction industry full-time as a project engineer. Nearly 15 years later, she shares more on how she combined her strengths and industry interests into a role she looks forward to each day.
How long have you been with Sellen and how has your role changed over time?
I joined Sellen full-time in 2006 as a field engineer. Having worked as a laborer, I wanted to try the engineering side of construction and see how I liked construction management. While I liked the work, I never felt like the engineer role was a fit for me. It wasn't until a senior leader mentioned the project administration role that I started to consider how it would align with my strengths. The ability to combine my organization skills with the opportunities to help teams created a role that I absolutely love. It's a completely different side of construction but it's the side of construction I fit into best.
What do you find most rewarding about your job?
I like being able to help everyone on the team. From the owner to the project team, everyone knows they can come to me with questions and they aren't intimidated to ask for help. This is something that goes back to my experience as a teacher. I love when I can help someone else answer a question or solve a problem and really see it click for them.
Advice for women in the industry or interested in the industry?
Many women might not feel like there's a role for them in the construction industry unless they are involved with the physical aspect of building. I'd like women to know you don't need to enter the industry with a construction management degree. There are opportunities to join the industry in other capacities supporting the project teams. We have professional services roles in marketing, project administration, human resources and accounting. If you love math, try estimating to see if it's right for you.
If you're interested in construction, I'd recommend job shadowing different roles to see which one is a good fit. Overall, the industry is a great one to get into. The people, pay and benefits are wonderful and your work is changing all the time.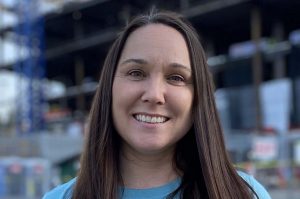 Tammy Norman
Sr. Project Assistant