Leadership Announcements
We're excited to announce a new addition to Sellen's executive team and two promotions for long-time company leaders:
Introducing COO Chris Martindale
Chris joins Sellen with 34 years of experience in the construction industry. After starting his career as a carpenter in Montana, Chris attended UW and has worked in the Puget Sound commercial construction industry for nearly three decades. He has helped deliver projects throughout the region, including many complex medical facilities for leading local healthcare providers. As a skilled leader with deep ties to important causes in our community, we are thrilled to welcome Chris to our executive team.
Promotions for Jason Barnwell & Jason Harrison
Jason Barnwell and Jason Harrison — two leaders at Sellen with a combined 49 years of experience at the company — have both been promoted to Senior Director of Operations.
Jason Barnwell started at Sellen in 1998 as a carpenter apprentice and has served as the superintendent on some of the largest projects in Sellen's 79-year history. In addition, Jason has played a key role in leading our field operations team over the last several years, providing guidance and coaching to people throughout the company. 
Jason Harrison's career at Sellen started in 1999 when he joined the company as a project engineer and worked his way up to become one of our most accomplished project managers. In recent years, Jason helped lead an internal team dedicated to improving and standardizing our approach to project delivery.
In this new role, they will support Chris as he gets acclimated to Sellen and work alongside people throughout the company to continuously improve the ways in which we support our clients.
Transitions in 2024
Sellen's two current COOs — Dave Ratzke and Tim McKey — will continue to serve in their respective roles as they prepare to retire in 2024. We carefully craft leadership succession plans years in advance, and this is the next step in that transition. Both have made immeasurable contributions to Sellen over the past 35 years and will continue to provide key leadership in the coming months.
They will draw from decades of collective experience at Sellen to help Chris better understand our people, our projects, and our partners. Stay tuned later this year as we share stories celebrating their incredible careers at Sellen on our social media channels.
---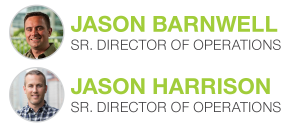 ---