Ironworkers Bring Smiles to Seattle Children's Hospital
For the last several months, the Apex Steel crew at the Seattle Children's Hospital Building Care project has dressed up each Friday to bring superheroes, dinosaurs and even Disney princesses to the children looking out at the job site from the neighboring hospital buildings.
The idea of "Funday Fridays" was sparked by an Apex ironworker and mother of three who spent several years in and out of the hospital with her daughter. As her daughter fought to overcome health challenges from birth through her teenage years, the family spent much of their time at Doernbecher's Children's Hospital in Portland and at Seattle Children's Hospital.
Looking back on her daughter's time in the hospital, she remembered the bright moments when a familiar superhero or character stopped by to visit. The welcome distraction helped her daughter focus on something other than her illness and allowed her sons to have some fun while they were cooped up at the hospital.
When she heard about the Building Care project and the site's location right outside the windows of children in treatment, she suggested Funday Fridays as a way for the team to surprise the children and brighten their day. Every Friday, the ironworkers dress up as superheroes, dinosaurs and even Disney princesses to help bring smiles to the project jobsite. Sellen is grateful to work with such a caring crew and we look forward to continuing to help improve our community.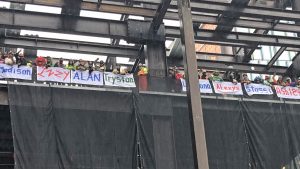 Pictured above: Apex Steel's crew says hello to the patients at the hospital next door.