Yale and Harrison Construction Updates
May 2021
The team at Yale and Harrison will be dismantling and removing the project's tower crane this weekend, May 8-9. The schedule for this activity and associated traffic lane impacts are detailed below.
Saturday, May 8
Starting at 9 p.m.
Crews arrive on site to set traffic control on Eastlake Ave and Harrison St. 

Eastlake Ave will be reduced to one lane in each direction from Harrison St. to Thomas St., flaggers will intermittently hold traffic during overhead work. 

Harrison St. will be closed in both directions from Eastlake Ave E to Yale Ave N.
10 p.m. – Seattle City Light will mobilize to remove overhead lines on Eastlake Ave E.

Sunday, May 9
4:30 a.m – 

Mobile crane arrives on site and starts setup.

6 a.m – Crews will start dismantling the tower crane.
8 p.m – Mobile crane leaves site. 

Seattle City Light will reinstall overhead lines on Eastlake Ave E.

11:59 p.m. – Traffic control will be removed and all lanes will reopen for travel.
Scroll to the bottom of the page to subscribe to future project updates for the Yale and Harrison project.
Questions or concerns? Contact us any time:
Superintendent Russell Paananen
Email: russp@sellen.com
Project Email Inbox: yaleandharrison@sellen.com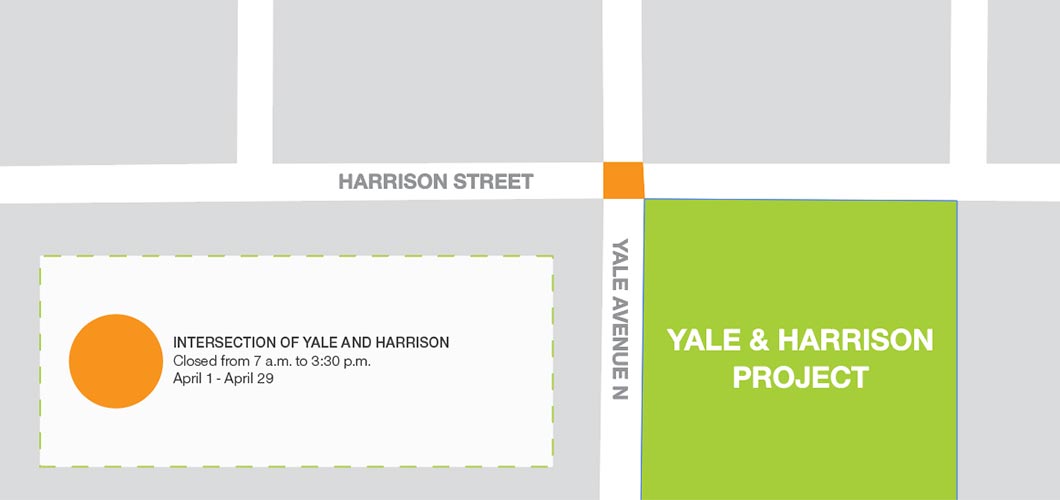 Construction Bulletin Archive
About the Project
The Yale and Harrison project, is a nine-story office building. Early work began in June 2019 and the project is scheduled to continue through Summer 2021.
Sellen is committed to being a responsible neighbor from start to finish. Please contact us immediately if you have any questions or concerns.