Yale and Harrison Construction Updates
November 2019
The team at Yale and Harrison continues to work on shoring and mass excavation. This work will continue through the end of the year. During this phase of construction, soil will be removed from the site with trucks and trailers along Yale Avenue North from 7 a.m. to 6 p.m. on weekdays.
Through mid November, the shoring team will be drilling and installing piles. This work will cause significant construction noise from 8 a.m. to 5 p.m. during the week. The first concrete pour will also occur in November as work on the structure begins. On concrete pour days, Harrison Street will be reduced to westbound traffic only. Crews will continue working Saturdays as needed from 9 a.m. to 5 p.m.
Street and Sidewalk Closures:
Yale Avenue North: Sidewalk closed through Dec. 2020.
Harrison Street: Sidewalk and parking lane closed through Dec. 2020.
Eastlake Avenue East: A pedestrian walkway is in place in the parking lane adjacent to the project through Dec. 2020.
Scroll to the bottom of the page to subscribe to future project updates for the Yale and Harrison project.
Questions or concerns? Contact us any time:
Superintendent Russell Paananen
Email: russp@sellen.com
Project Email Inbox: yaleandharrison@sellen.com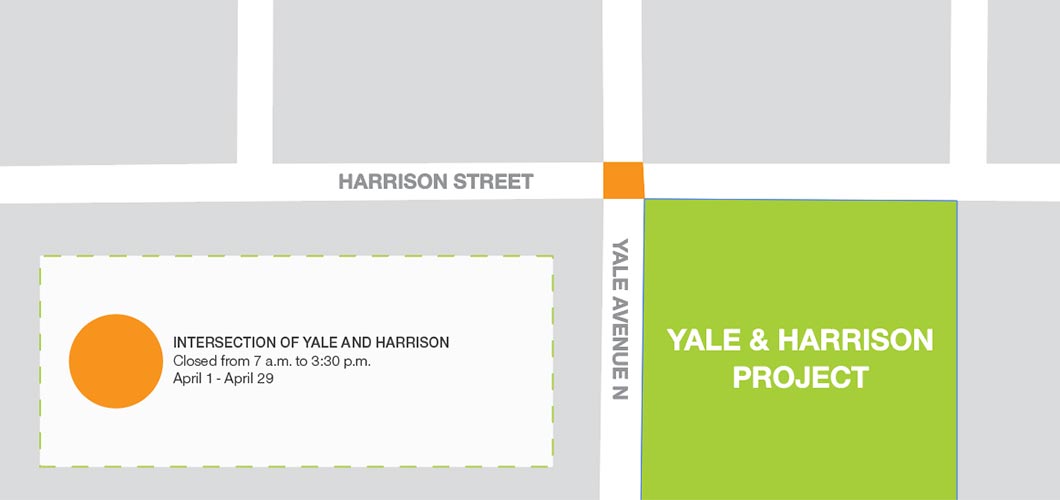 Construction Bulletin Archive
About the Project
The Yale and Harrison project will be a nine-story office building upon its projected completion in May 2021.