The Artise Construction Updates
Monthly Project Update
Activity
This month will include daily lane shifts on 106th Ave NE to accommodate concrete pumping activities. There will be a full closure of 106th Ave NE from 5:00 a.m. to 6:00 p.m. Signage will be in place on the job site to signify these closures. There will be no construction taking place on Nov. 24 throughout Nov. 27 and no impacts to the right of way past 12:00 p.m. for the Thanksgiving Holiday. Please refer to the maps below for our typical operation for November as well as maps of the upcoming lane shift and closure.
Upcoming Lane Shifts and Road Closures:
Early Activity on Nov. 11, 15, 17 & 22: Concrete pouring will begin at 5:00 a.m.
Early Activity on Nov. 18 & 19: Construction activity will begin at 7:00 a.m. to accommodate crane work.
Typical Operation: Traffic on northbound 106th Ave NE will be shifted into the turn lane to travel around concrete pumping activities, this will occur during working hours (7:00am – 4:00pm). Northbound travel will be maintained, but the public may experience increased congestion as the work zone will be flagged to support the entrance and exit of concrete trucks.
Friday, Nov. 11: 106th Ave NE closed from 5:00 a.m. to 6:00 p.m.
The following sidewalk changes will remain in place throughout November:
The sidewalk on the east side of 106th Avenue NE will be closed between the south side of the building and NE 8th Street.
The sidewalk on the south side of NE 8th Street adjacent to the job site will remain open with pedestrian protection in place.
Questions or concerns? Contact us anytime and we'll get back to you as soon as possible.
Project Email Inbox: artise@sellen.com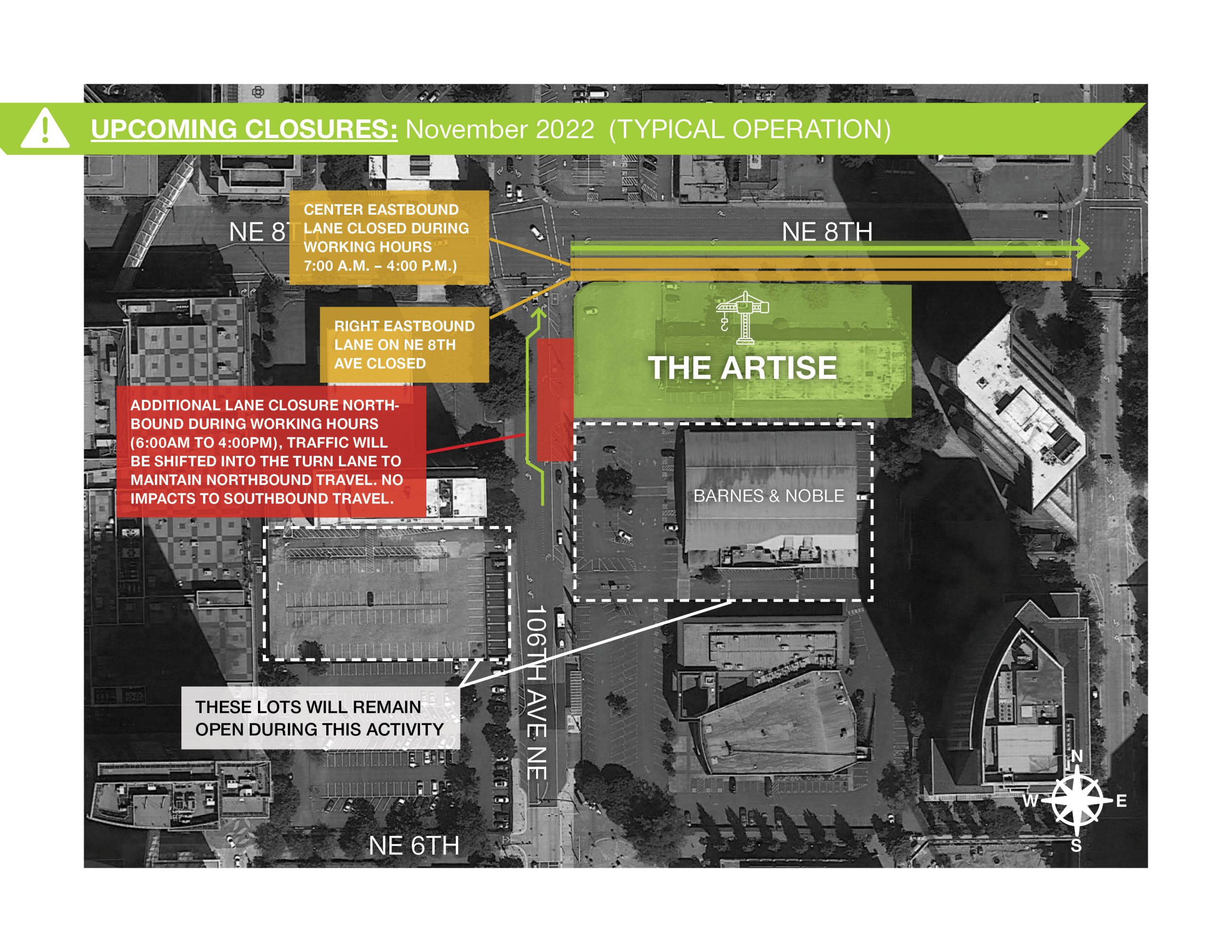 Construction Bulletin Archive
About The Artise Project
Sellen is partnering with Schnitzer West and NBBJ to build The Artise, a new office tower located on the corner of NE 8th Street and 106th Avenue in Bellevue.