Rufus 2.0 Construction Updates
June 2019
Block 18 Work

The Block 18 project is currently forming and pouring elevated garage decks. This work will be ongoing until the project reaches street grade, which is scheduled for mid-July. Intermittently, during this phase of construction, concrete pumps will be setting up at 5 a.m. to begin pumping at 6 a.m. and crews will work on Saturdays starting at 7 a.m.
Bell Street: Sidewalk closed through November 2020.
Blanchard Street: Sidewalk closed through November 2020.
7th Avenue: A pedestrian walkway is in place for the duration of the project. 
Block 20 Work
The sidewalk on Westlake Avenue between Lenora Street and 8th Avenue remains closed. Pedestrians will be routed to the other side of the street.
This detour will remain in place through May as crews complete street and sidewalk improvement work.
7th Avenue: The sidewalks and parking lane on the east side are closed until May 2019. Traffic is limited to southbound only during the day. 
8th Avenue: The parking lane and sidewalk on 8th Avenue are closed until May 2019. At times, traffic will be limited to northbound only, Monday through Saturday. 
Blanchard Street: The parking lane is closed on both sides of Blanchard. One lane has been reopened for northbound traffic.
Lenora Street: Parking lanes are closed on both sides of Lenora. The sidewalk is closed on the north side of the street. 

 
Safety
Please follow the sidewalk detours and do not enter the secured fenced site at any time.
Please watch for truck and trailer traffic entering and leaving the site. Trucks and heavy equipment may make wide turns and have trouble seeing pedestrians and vehicles.
Stay within sidewalk boundaries on the corner of 7th & Blanchard and do not stand in the traffic lane.
Contact Us
Block 20
Brian Duke, Senior Superintendent
Cell: 206.571.2628
Email: block20@sellen.com
Block 18
Bret Hillman, Superintendent

Email: block18@sellen.com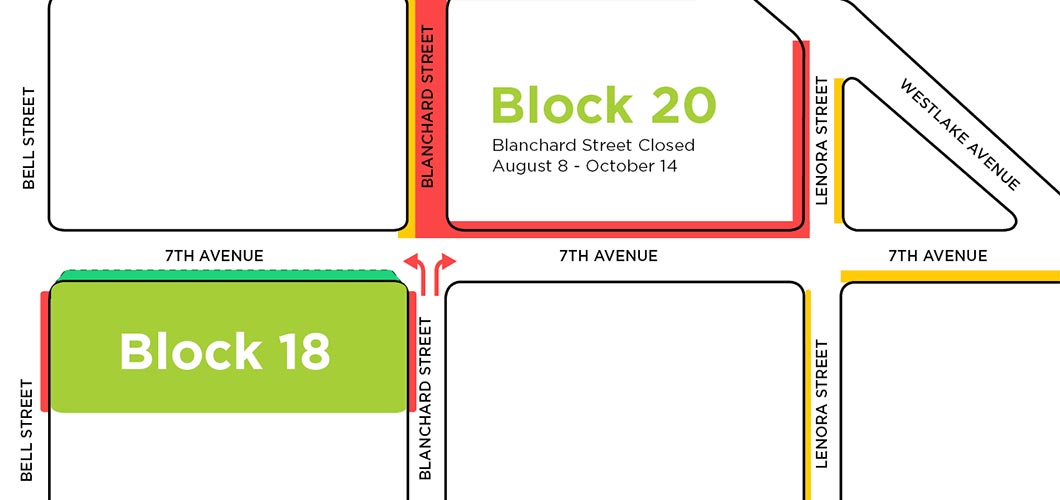 Construction Bulletin Archive
About the Project
Sellen is currently working with Seneca Group on Block 20, a 37-story office tower designed by NBBJ, and Block 18, a 17-story office tower designed by Graphite Architects.