Rufus 2.0 Construction Updates
October 2018
Block 20 Work
The crew at Block 20 will continue setting curtainwall above Level 25 using the tower crane, as well as the mobile crane below Level 4. There will be early, 6 a.m. deliveries of window units twice per week on 8th Avenue through the end of December. Crews will continue to work on street improvements on the northwest end of the project at Blanchard Street, as well as areas of 7th Avenue and 8th Avenue. 
7th Avenue: The sidewalks and parking lane on the east side are closed until May 2019. Traffic is limited to southbound only during the day. 
8th Avenue: The parking lane and sidewalk on 8th Avenue are closed until May 2019. At times, traffic will be limited to northbound only, Monday through Saturday. 
Blanchard Street: The parking lane is closed on both sides of Blanchard. One lane has been reopened for northbound traffic.
Lenora Street: Parking lanes are closed on both sides of Lenora. The sidewalk is closed on the north side of the street. 
Block 18

Shoring activities at Block 18 will begin on Tuesday, November 6. Crews will begin drilling on the southeast side of the project by the alley and work counterclockwise around the job site until mid December. This activity will cause loud construction noise. There will be a minimal amount of trucking as we remove the soldier pile soils. Major trucking will begin next month with the start of mass excavation. 
Bell Street: Sidewalk closed beginning through November 2020.
Blanchard Street: Sidewalk closed through November 2020.
7th Avenue: A pedestrian walkway is in place for the duration of the project. 
Safety
Please follow the sidewalk detours and do not enter the secured fenced site at any time.
Please watch for truck and trailer traffic entering and leaving the site. Trucks and heavy equipment may make wide turns and have trouble seeing pedestrians and vehicles.
Contact Us
Block 20
Brian Duke, Senior Superintendent
Cell: 206.571.2628
Email: block20@sellen.com
Block 18
Bret Hillman, Superintendent

Email: block18@sellen.com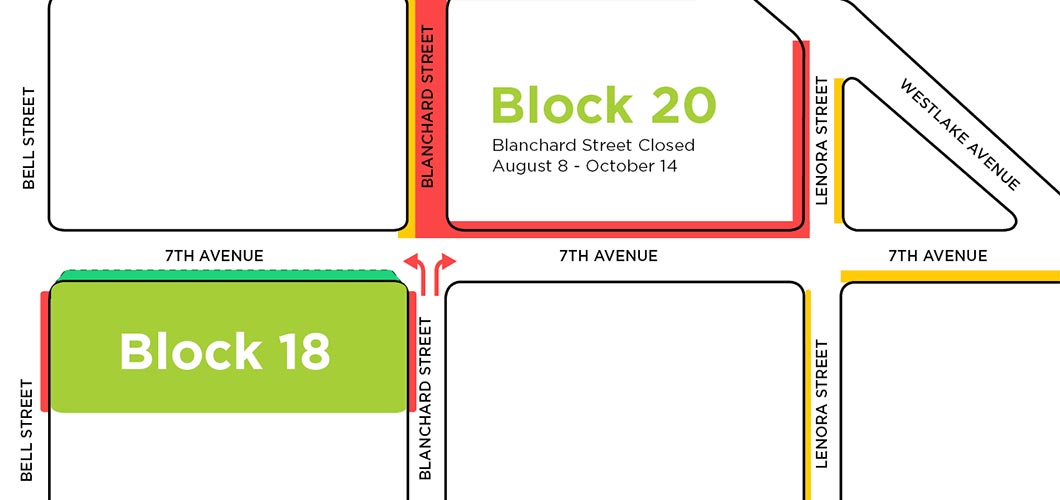 Construction Bulletin Archive
About the Project
Sellen is currently working with Seneca Group on Block 20, a 37-story office tower designed by NBBJ, and Block 18, a 17-story office tower designed by Graphite Architects.