Rufus 2.0 Construction Updates
January 2020
Block 18 Work

The Block 18 project has topped-out with major structural steel erection. Crews will continue pouring concrete slabs through the middle of March. During this phase of construction, concrete pumps will be setting up intermittently at 5 a.m. to begin pumping at 5:30 a.m. Crews will work on Saturdays starting at 7 a.m.
Starting in February, crews will begin street improvement work in the alley. Vactor trucks will be working in the alley to remove shoring piles during this phase of work, resulting in significant construction noise. In early February, the pedestrian walkway on 7th Avenue will close and pedestrians will be rerouted to the east sidewalk.
Bell Street: Sidewalk closed through November 2020.
Blanchard Street: Sidewalk closed through November 2020.
7th Avenue: A pedestrian walkway is in place for the duration of the project. 
Safety
Please follow the sidewalk detours and do not enter the secured fenced site at any time.
Please watch for truck and trailer traffic entering and leaving the site. Trucks and heavy equipment may make wide turns and have trouble seeing pedestrians and vehicles.
Stay within sidewalk boundaries on the corner of 7th & Blanchard and do not stand in the traffic lane.
Contact Us
Block 18
Bret Hillman, Superintendent

Email: block18@sellen.com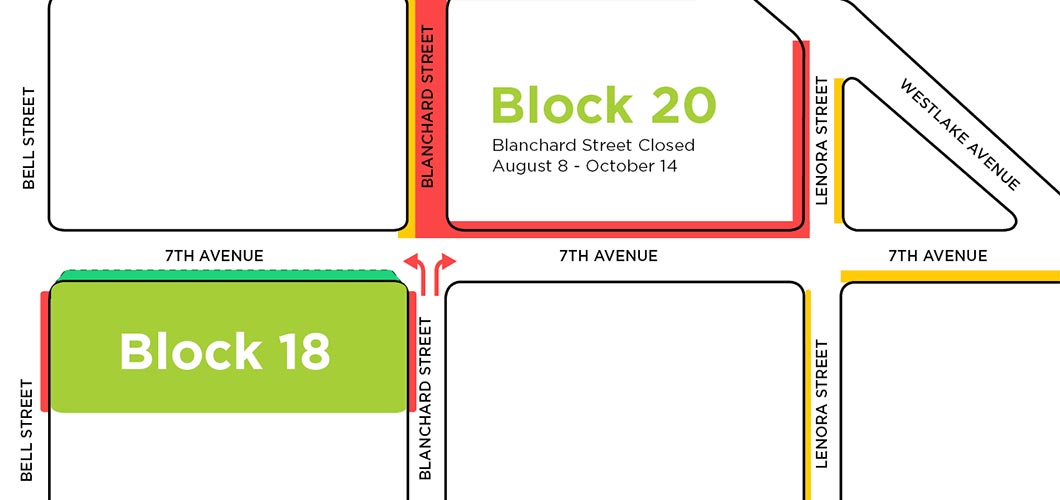 Construction Bulletin Archive
About the Project
Sellen is currently working with Seneca Group on Block 18, a 17-story office tower designed by Graphite Architects.