35 Stone Construction Updates
December 2023
If you would like to be added to the email distribution list for these bulletins, please send that request to 35stone@sellen.com.
Activities
This month, specific construction activities include:
Mass timber erection activities will take place during regular working hours. There will be increased trucking and deliveries on Stone Way & N 36th Street during this time.
There will be intermittent concrete pours that occur on-site during regular working hours. There will be an increase in concrete trucks and pumps during these pours.
N 36th Street will be reduced to one lane during some of these concrete pour activities and signage will be in place to notify these lane changes.
Utility work will be starting on Stone Way N during regular working hours. There will be additional equipment and activity on Stone Way during this time.
The following sidewalk changes will remain in place in December:
The sidewalk on the north side of N 36th Street will be closed between the west side of the building and Seattle Bouldering Project. The entrance to Seattle Bouldering Project will remain open.
The sidewalk on the west side of Stone Way N will be closed along the length of the job site, but shops on the corner of Stone Way N and N 35th Street will remain open.
Work Hours
Site work hours will be 7 a.m. – 5:30 p.m.
No off-hours or nighttime work is scheduled to take place at 35 Stone within or outside of the designated construction area.
Questions or concerns? Contact us anytime, and we'll get back to you as soon as possible.
Project Email Inbox: 35stone@sellen.com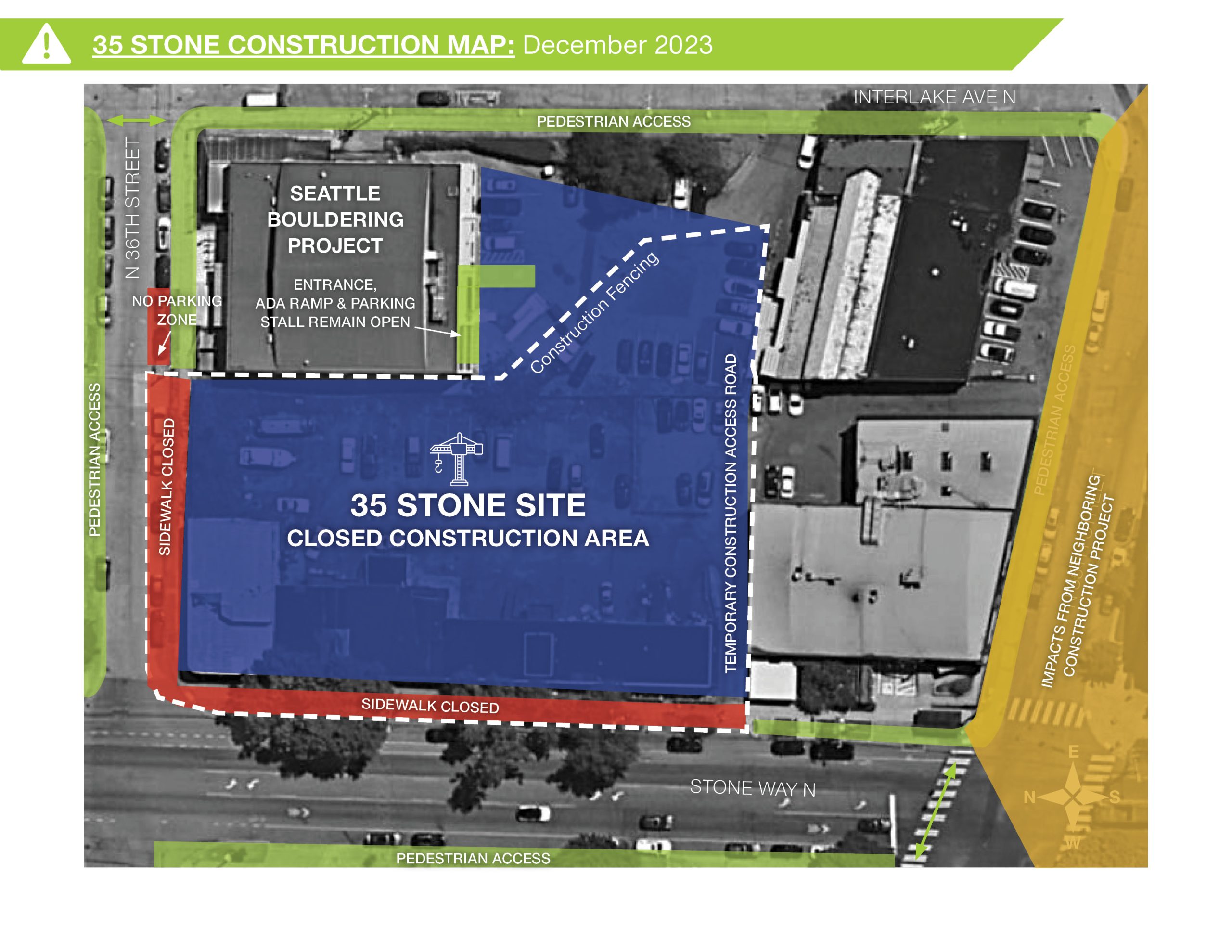 Construction Bulletin Archive
About the Project
Sellen is partnering with Evolution Projects, Miller Hull & Weber Thompson to develop Campus Seattle. The full buildout will be located in Seattle's Fremont neighborhood and include 230,000-plus square feet of new office, retail, and recreation space as a hub for the active and outdoor lifestyle.